I purchased this Screen Printing setup direct from Brown Manufacturing exactly 1 year ago. We are getting out of the business due to new addition to the family and can no longer spare the time.
I will sell everything as a complete package for $10,500 (Paid over $14,000 just 1 year ago)
Over 10 gallons of ink, aluminum frames, squeegies, scoop coters, spot removal system, transfer paper and much more.
Package will include everything you need to set up and start printing the same day.
Delivery is available to a resonable distance.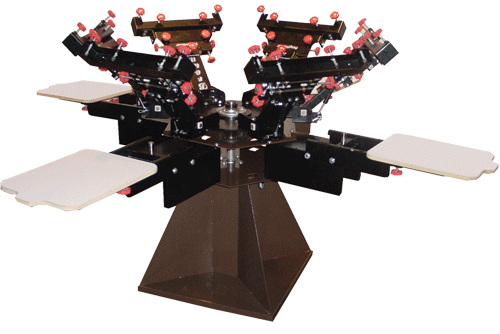 MD-64 - 6 Color / 4 Station MidLine Printer
Lightweight and durable. Designed with durability in mind, these t-shirt presses offer solid performance at reasonable prices. Using side clamp and micro registration, these presses are quick to set up and solid during a print run. The rigid construction means this press will be a solid proformer for years to come.
Colors 6
Stations 4
Platen Size 16" x 18"
Screen Size 20" x 24"
Length/Width/Height 98" x 98" x 47"
Shipping Weight 750 lbs.
Standard Features
• Wrenchless micro adjustments.
• Side clamps and rear clamps for solid holding power.
• Quick release melamine coated wood platens.
• Dual rail platen leveling.
• Factory assembled.
• Sealed roller bearings surrounding the full length center shaft and at the print head pivot points.
• Accepts all standard Brown attachments.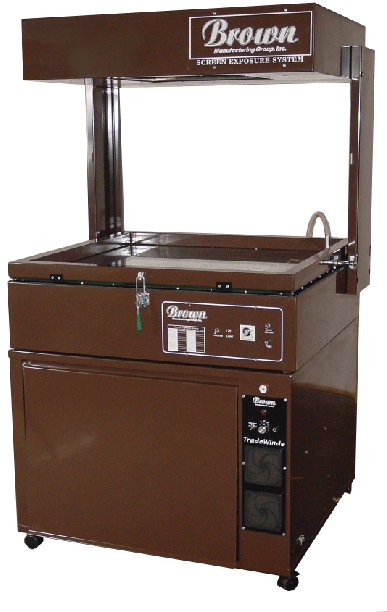 SPV-2931 Single Point Exposure Unit
SinglePoint Exposure Systems
SinglePoint SPV-2931
Max. OD Screen 29" x 31"
Length/Width/Height 37" x 40" x 66"
Power Req. 120V, 15A
Ship Weight/SD 500/750 lbs
Get the point. These maintenance free exposure units have been providing fast accurate exposure results in thousands of screen printing shops for over 25 years. These units, by far, are the best exposure unit value in their class.
• Electronically timed with an automatic reset feature.
• 1000 watt quartz halogen bulb.
• Singlepoint light source ensures perfect halftone & fine line
reproduction.
• Vacuum hold down units are the standard of the industry.
• Top side exposure systems allow for a screen drying cabinet.
• Tempered glass.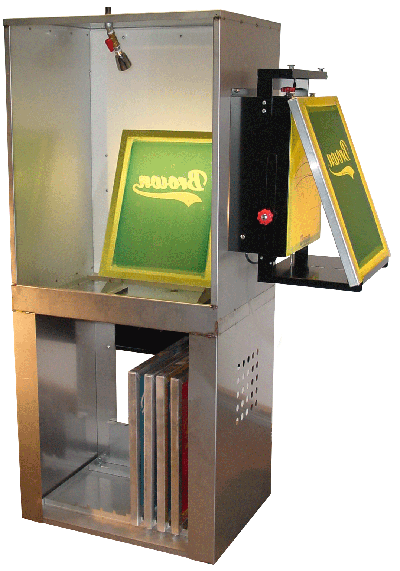 S-3138C - WaterWorks Deluxe Sink
Versatility meets necessity. Every shop, large or small, needs an industrial style wash sink for processing screens. This handy unit inclues tools to make the job faster and easier.
Complete version features:
• Backlighting for easier screen processing.
• Welded 2" drain.
• Stainless steel construction withstands the chemical and physical abuse of screen processing.
• The back lit preregistration layout table makes it easy to set art to screens before exposure. This handy unit guarantees faster press setup time.
• The clever backlit table doubles as a viewing station during screen coating and for pin holing after exposure.
• The screen coating rack provides a stable shelf with adjustable screen stops for easy two handed coating.
• A multi position screen holding rack complete with a filtered air movement system and water catch pan ensures faster, cleaner screen drying.
• Shower head for hands free screen processing.
WaterWorks SS-3138C
Max. OD Screen 31" x 36"
Length/Width/Height 32" x- 30" x 75"
Power Req. 120V, 5A
Ship Weight 250 lbs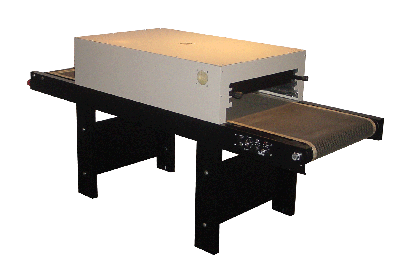 PD-2407D - Pony Dryer
Count on 'em. These quality designed dryers are big on production and small on space. They are loaded with convenient features
and priced to fit any budget
.Standard Features
• Easily adjustable heater height.
• Premium fan cooled adjustable temperature controls with light indicators.
• Optional solid state digital temperature monitor system maintains stable oven temperatures at belt level of ±7 degrees.
• Insulated side walls.
• Calrod heaters warranted for 3 years.
• Crowned rollers for perfect belt tracking.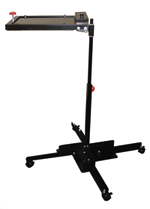 FF-1616 - FastFlash
These units are specifically designed to successfully flash cure in seconds and fully cure in 20 to 60 seconds. They allow a height adjustment of 30" to 40". These units come equipped with casters and rheostat controls.
FastFlash FF-1616
FF-2020
Heat Area 16" x 16"
Length/Width/Height 23" x 18" x 45"
Power Requirements 120V, 15A
Ship Weight 50 lbs