2006 Barudan Elite Pro Model BEVT-Z1501CB fifteen color embroidery machine for sale. This machine was bought in late 2006 and has only been used periodically for a home based business. It has not seen daily use. In fact, it has more idle time than running time since purchased. This machine is in pristine condition and still looks like it did the day it was taken out of the shipping crate. The protective clear plastic cover is still on the automat face. This is a very low time, immaculate like new machine. Not a thing wrong with it and meticulously maintained per the manual. The following items come with it. This machine runs great. Check out my web site for some of the great detailed work I have done with this machine. Can do very detailed small work with #60 thread. Awesome work I have done with his machine.
1. 32 MB Compact Flash Card.
2. USB cable for uploading embroidery files from your computer directly to the machine.
3. Dakota Collectibles with 5000 embroidery designs ready to be used, just upload them to the machine.
4. Two Barudan Elite Pro manuals on disk.
5. 15 unopened Cones of Madeira Polyneon thread in primary colors. About 120.00 value
6. 12 opened cones of Madeira Polyneon thread with very little used. Looks like full cones.
7. Barudan tool kit with box.
8. One and half boxes of Coats American bobbers.
9. Hoopmaster board for hooping shirts, with 12 and 15 hoop boards. Pocket grid included
10. Hoopmaster Freestyle Arm for hooping cap backs and seam edges on shirts.
11. Two oblong 330 x 430 hoops for shirts backs
12. Two round 12 cm hoops
13. Two round 15 cm hoops
14. Two cap hoops
EZ Cap hooping fixture
15. Embroidery machine stand with casters.
Everything you need to start producing embroidery. Just plug it in and go. I have spoken with the Barudan salesman that sold this machine to me and he said a fair market value is 9000.00. I am firm at 9000.00. The Hoopmaster alone is 795 currently, and that is a Sale Price. I can't remember what I paid for it but it was a chunk.
I also have Compucon TES 3 full digitizing software available for 1500.00. Paid 3000.00 for this software in late 2006. Current on updates. Full digitizing capability or simply use it to manage and upload your embroidery files to your machine using the USB Cable or by Compact Flash Card.
Inquiries please email
for fast response. I am not on this forum much these days.
[IMG]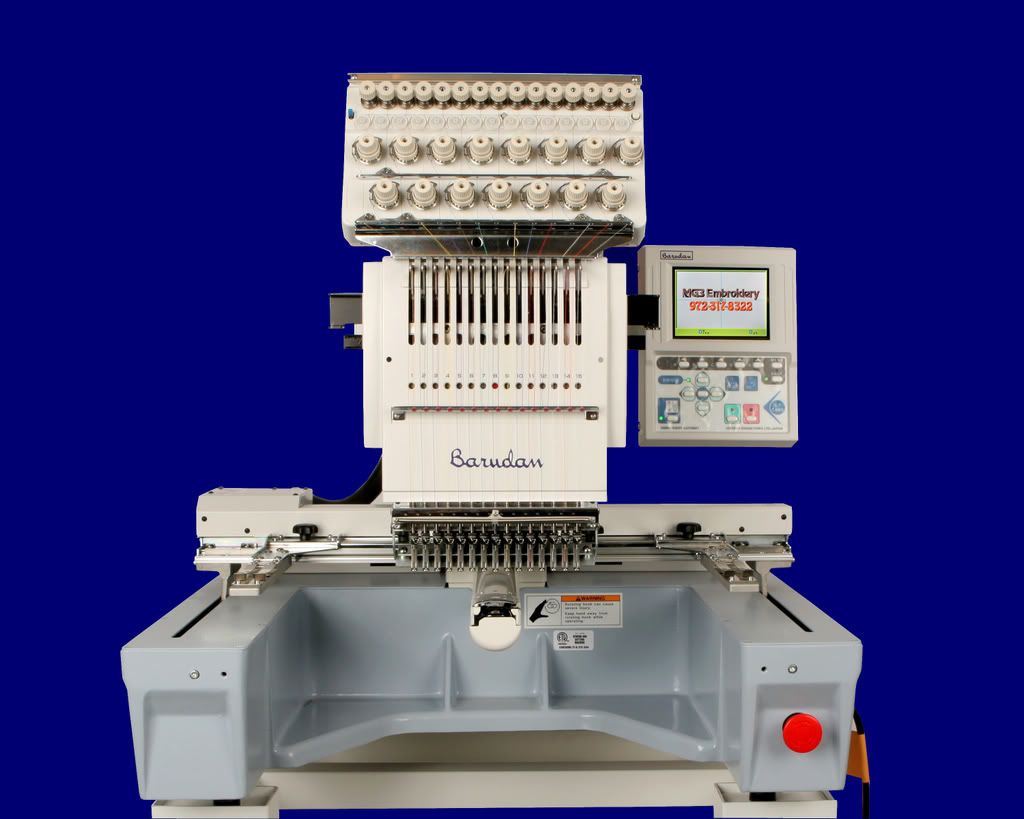 [/IMG]