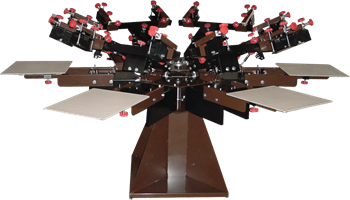 BROWN 6 COLOR , 4 STATION MANUAL SCREEN PRINTER , HARDLY USED LOOKS NEW $2400.00 REDUCED OR BEST OFFER
"Direct Drive" x-y-z micro adjustments.
• Side clamps with locking bars for solid holding power.
• Quick release aluminum, warp free platens.
• Dual rail platen leveling.
ATTACHEMENTS
Full set of specialty attachments. The complete package includes a leg, a sleeve and a pocket printing platen. Each of these is a quick release from the included bracket system.
JACKET HOLD DOWN CLAMPS
This 3 part system is another unique Brown idea. Designed for ease of use and high production, this sturdy system will attach to any Harco or Brown brand printer.
•16" X 16" Adult platen
•12" x 12" Youth platen
•6" x 6" Short platen