k,
I have a SWF compact 15 color embroidery machine. I love the concept of embroidery, but this machine is the bane of my existence right now. My current problem is with hats.
I came home from a trip, ran several H test patterns until I reset all the tensions on my machine. Then I sewed on one of our white hats, which seem to be of a thicker material and it looked good. When I tried to sew a similar design on one of our blue or black hats (which are thinner, twill hats), the embroidery goes "fuzzy". Meaning that you can see some bobbin thread coming through and the pink thread looks as if it isn't being pulled tight enough to lay down properly. I primarily sew names on these hats and then there is a heart graphic (dakota collectibles) or an agility graphic after it (also Dakota).
Previously, I have sewed the blue and black and white hats with no trouble and they look nice. Now, I can't for the life of me make any changes in software or in tensions to make these blue and black hats look right.
I'm attaching pictures in hopes that someone has something for me to try. I can tell you the software changes I've tried...if anyone thinks that's important to know...
PLEASE HELP!
Thank you from a frustrated embroider who is VERY behind!
Sara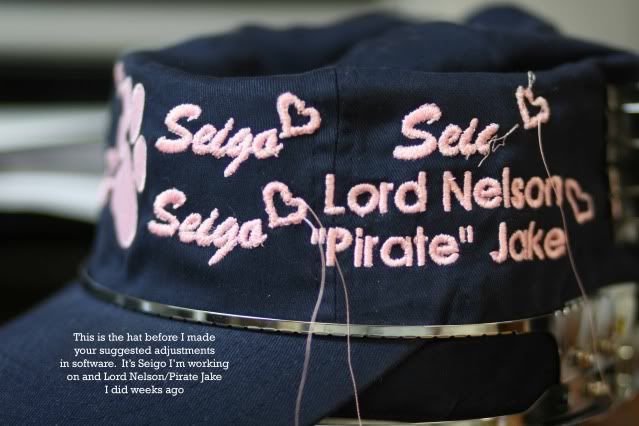 Its the name Seigo that I was working on - Lord Nelson and Pirate Jake I did weeks ago and they looked fine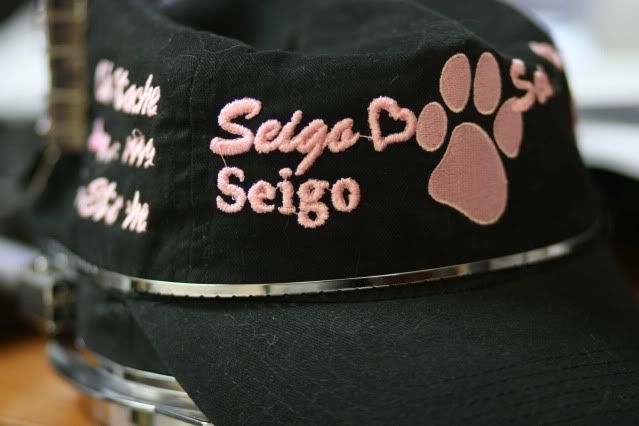 Here it is after making some software adjustments w/different stitches...still the same