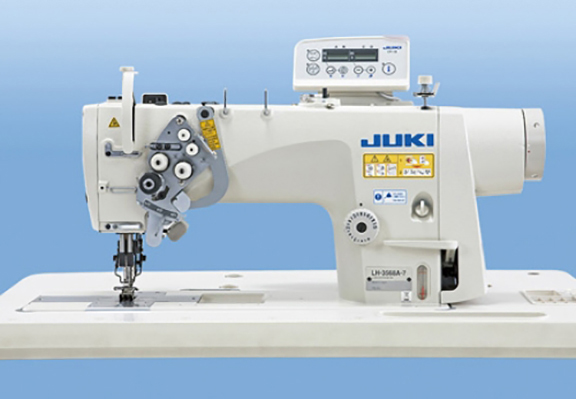 JUKI Double Needle Split Bar Sewing Machine w/Large Hooks (Fully Automatic)
Model Number: LH-3588A-7 [
Originally $5,800.00
]
This machine was purchased new in 2017 and was used to make one sample set of 72 hats for a headwear collection.
Essentially, it's a unicorn… as close to new as you can get!
Get it now for $3,850.00
… that's a
33% savings
off the original price!
Location:
The machine is in San Diego County California.
West & Southwest USA Buyers: big savings on shipping this machine!
Interested parties contact Jeff at
760-212-6577
or email:
.
Semi-dry-head, 2-needle, Lockstitch Machine with Organized Split Needle Bar
The LH-3588A-7 is a Direct Drive Double Needle Lockstitch Sewing Machine with SPLIT BARS and LARGE Sized Hooks designed to sew on heavy to extra-heavy materials like jeans and work wear. With the large hook, this machine helps reduce the frequency of bobbin thread changing when sewing jeans, hats or the like with thick thread. In addition, the curvature of the thread path has been minimized to improve the feed position. This ensures strong and smooth feeding of material even when sewing heavyweight fabric.
The organized split needle bars which enable either the left or right needle to stop independently of the other can be changed over by simply operating the lever, thereby saving labor in corner stitching.
The LH-3588A-7 gives you Full Automation with a CP-18A (standard size) electronic, top-mounted control panel, automatic thread trimming, automatic foot lift and automatic back tacking.
The curvature of the thread path has been minimized and the feed timing and position of the feed dog have been modified for sewing jeans and heavyweight materials (G type) requiring well-tensed seams. These improvements ensure consistently tense seams in production.
The adoption of a high-torque motor helps increase the penetrating force of the needle by approximately 32% as compared with JUKI's conventional machines. As a result, the needle has excellent penetrating force even when sewing multi-layered parts of heavyweight materials.
The servomotor is directly connected to the main shaft. Power consumption is reduced approximately 20% by combining the direct-drive system with the new model control box (SC-920).
TECHNICAL SPECIFICATIONS:
Hook: Vertical Axis LARGE Hooks
Lubrication: Semi-Dry with Minute-Quantity Lubrication on Hook with a Tank System
Max Sewing Speed: 3,000 SPM
Max Stitch Length: 5 mm (Adjustable by Dial)
Thread Winder: Built-In
Presser Foot Lift: 13mm (by Knee), 7mm (by Hand)
Needle System: DPx5
Needle sizes: #16 to #23 (#21 standard)
Includes: Machine Head, Table Top, Heavy Duty Stand, Integrated on Head Direct Drive Motor, LED Light, Extra Needles and Bobbins.
__________________________________________________ _____________
Interested parties contact Jeff at
760-212-6577
or email:
.