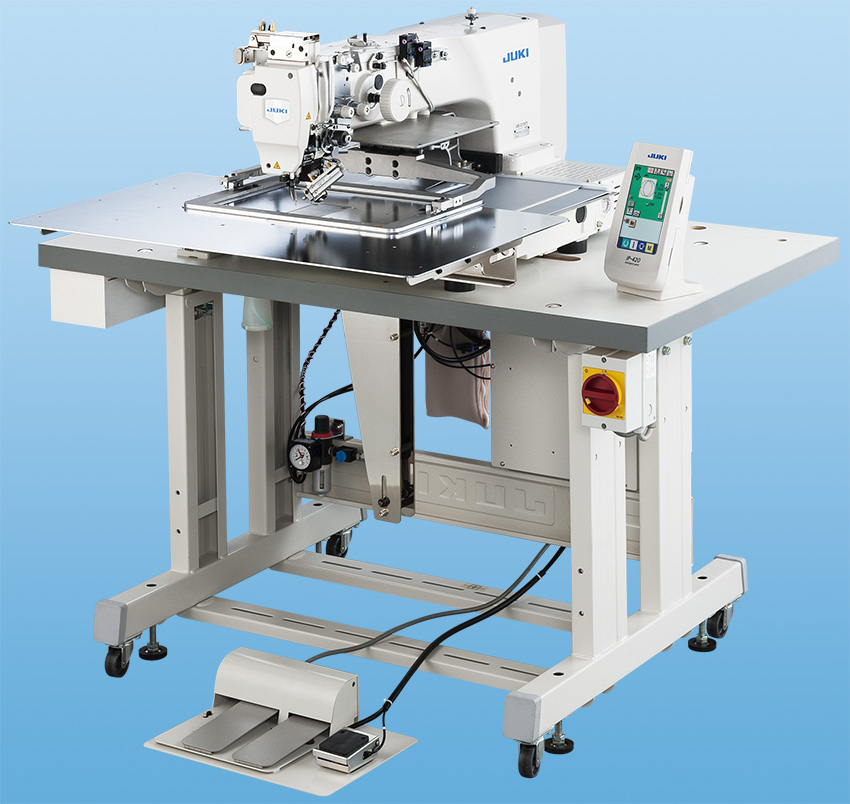 JUKI Programmable Pattern Sewing Machine
w/300mm x 200mm Field Size
Model Number: AMS-221EN-HS3020/7200 [
Originally $24,800.00
]
This machine was purchased new in 2017 and was never put into use.
Essentially, it's a unicorn… brand spanking new!
Get it now for $16,500.00
… that's a
33% savings
off the original price!
Location:
The machine is in San Diego County California.
West & Southwest USA Buyers: big savings on shipping this machine!
Interested parties contact Jeff at
760-212-6577
or email:
.
Computer-Controlled Cycle Machine w/Input Function
The JUKI AMS-221EN-HS3020 is an electronic programmable pattern sewing machine with a field size of 300mm x 200mm (12" x 8")
The sewing machine is best suited to the sewing of large labels and emblems, the sewing of two or more pieces of small labels and emblems at the same time, and the shape tacking of bags and shoes.
There is no limit to the number of custom items this machine can sew provided the sewing pattern is within the 12" x 8" field size and the material does not exceed certain thickness levels.
The sewing machine is applicable to a broad range of materials and processes, while leading the industrial sewing machine industry in terms of improvement in quality and the promotion of production that does not require sewing-machine operators to have special skills.
This machine is only available in the HS Version (Standard to Medium-Heavy weight materials).
TECHNICAL SPECIFICATIONS:
Model: AMS-221EN-HS3020/7200
Application: Heavy Weight
Sewing Field: 300mm x 200mm (12" x 8")
Max. Sewing Speed: 2,800 sti/min
Stitch Length: 0.1~12.7mm (0.05mm step)
Presser Foot Lift: 20mm
Needle: DP×17 (#19)
Needle Bar Stroke: 41.2mm
Needle Thread Tension: Electronically Controlled Active Tension
Hook: Double Capacity Shuttle Hook
Storage Capacity: 999 Patterns, 500,000 Stitch Count
Enlargement/Reduction: 1- 400% (done by adjusting stitch length or the number of stitches)
Power: 220 Volt 1-Phase, 220 Volt 3-Phase (110 Volt Conversion Available)
Includes:
Machine Head, Table Top, Heavy Duty Stand, Extra Needles and Bobbins.
__________________________________________________ _____________
Interested parties contact Jeff at
760-212-6577
or email:
.