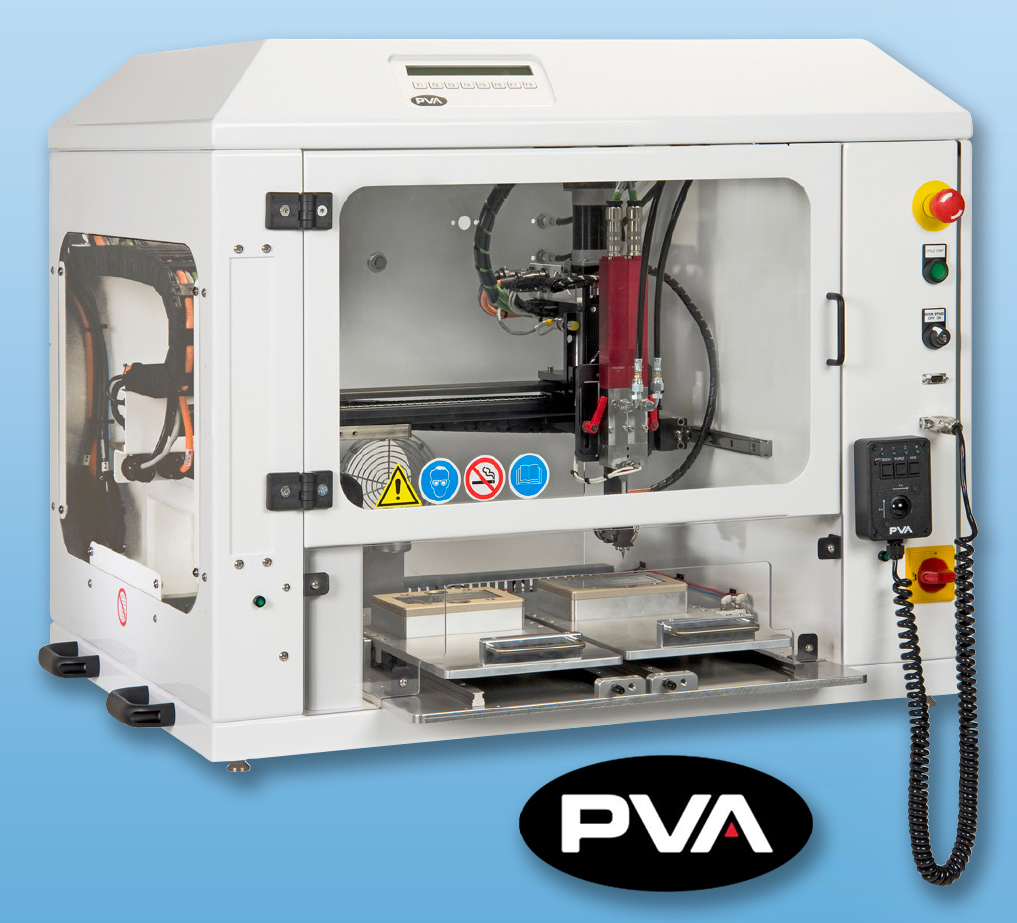 PVA350 - Robotic Spray Machine
[
Benchtop Coating / Dispensing System
]
Model Number: PVA350 with PVA FX800 Filter [
Originally $40,350.00
]
This machine was purchased new in 2017 and was never put into use.
Essentially, it's a unicorn… brand spanking new!
Get it now for $26,900.00
… that's a
33% savings
off the original price!
Location:
The machine is in San Diego County California.
West & Southwest USA Buyers: big savings on shipping this machine!
Interested parties contact Jeff at
760-212-6577
or email:
.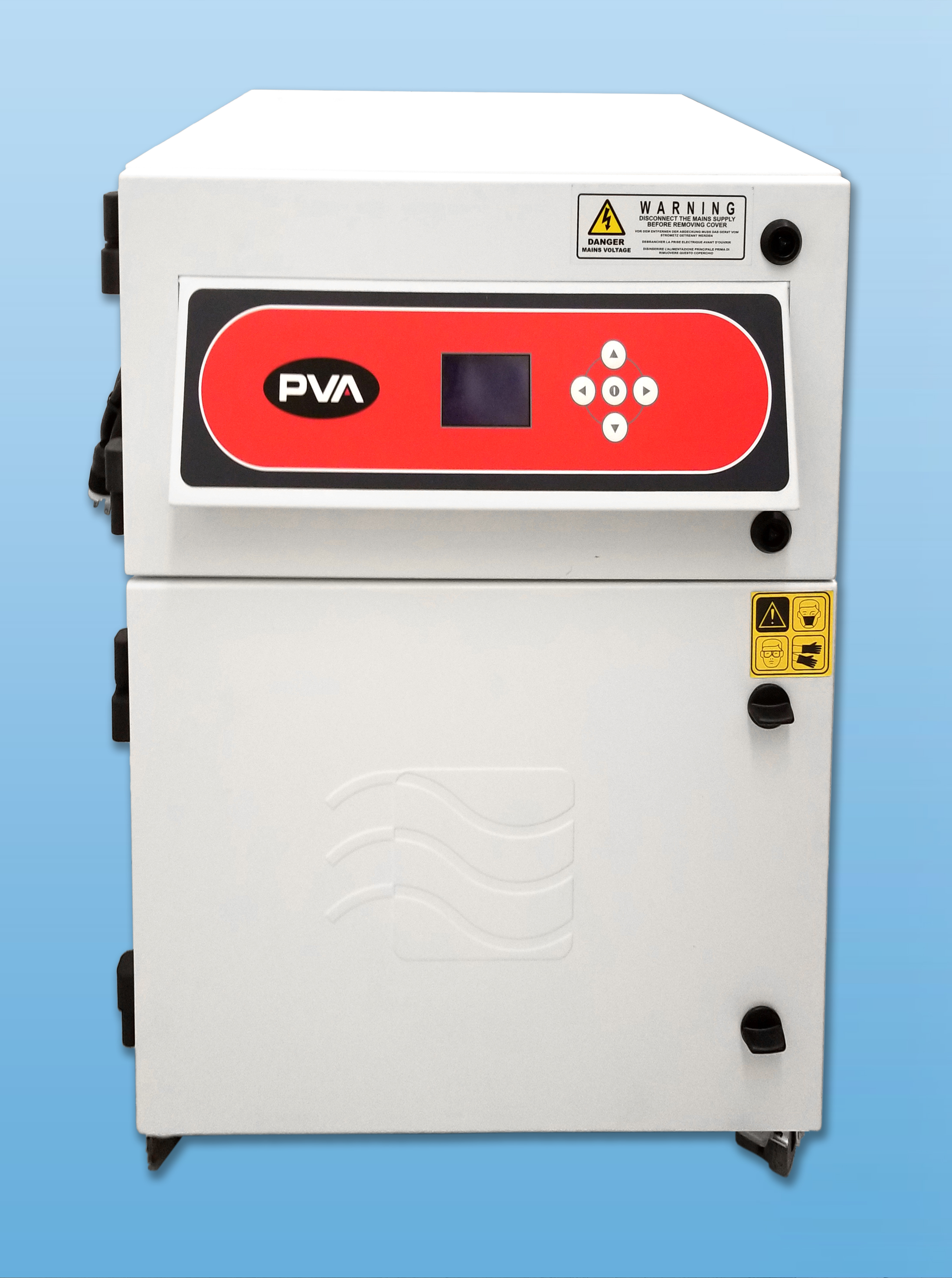 PVA FX800 Filter
[
Fume Filtration System
]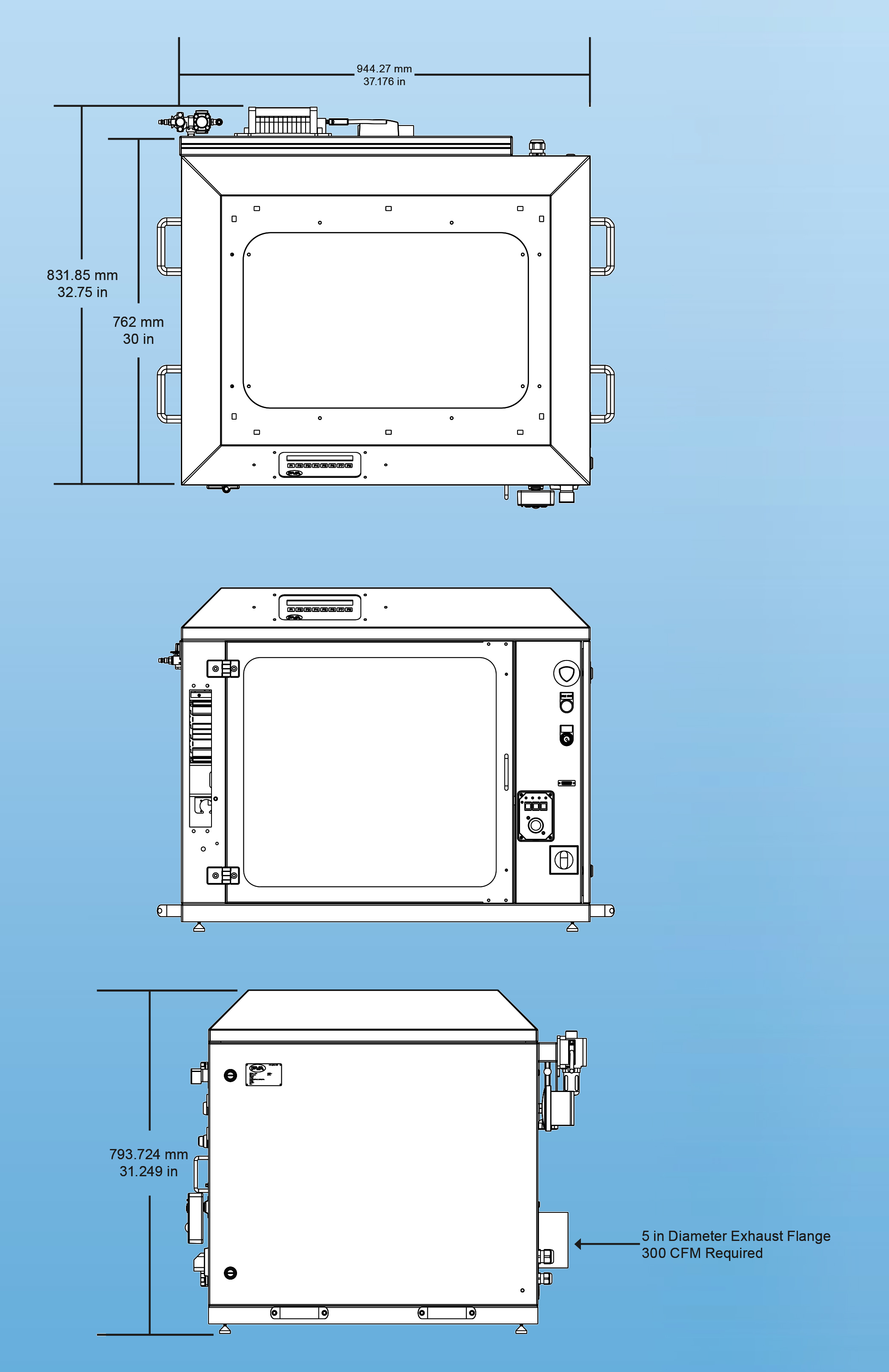 PVA350
[
Dimensional Diagram
]
PVA350 – Benchtop Coating / Dispensing System
The PVA350 is a flexible three or four-axis robot that is suitable for virtually any benchtop or laboratory selective coating and automated dispensing application.
The PVA350 features a robust overhead motion platform employing brushless DC servo motors and precision ball screw slides. Encoder feedback on all axes assures a closed-loop process that is consistent and reliable. The PVA350 platform is enclosed for added protection during spray applications.
The PVA350 has many integrated features including:
A compact, tabletop design that favors portability
Large work area
Optional four-axis tilt and rotation motion
Optical encoder feedback on all axes of motion
Coordinated motion in all axes simultaneously
RS232 communication port
Front panel LCD screen and remote trackball teach pendant
Exclusive PathMaster® programming environment
PVA's Global Service Network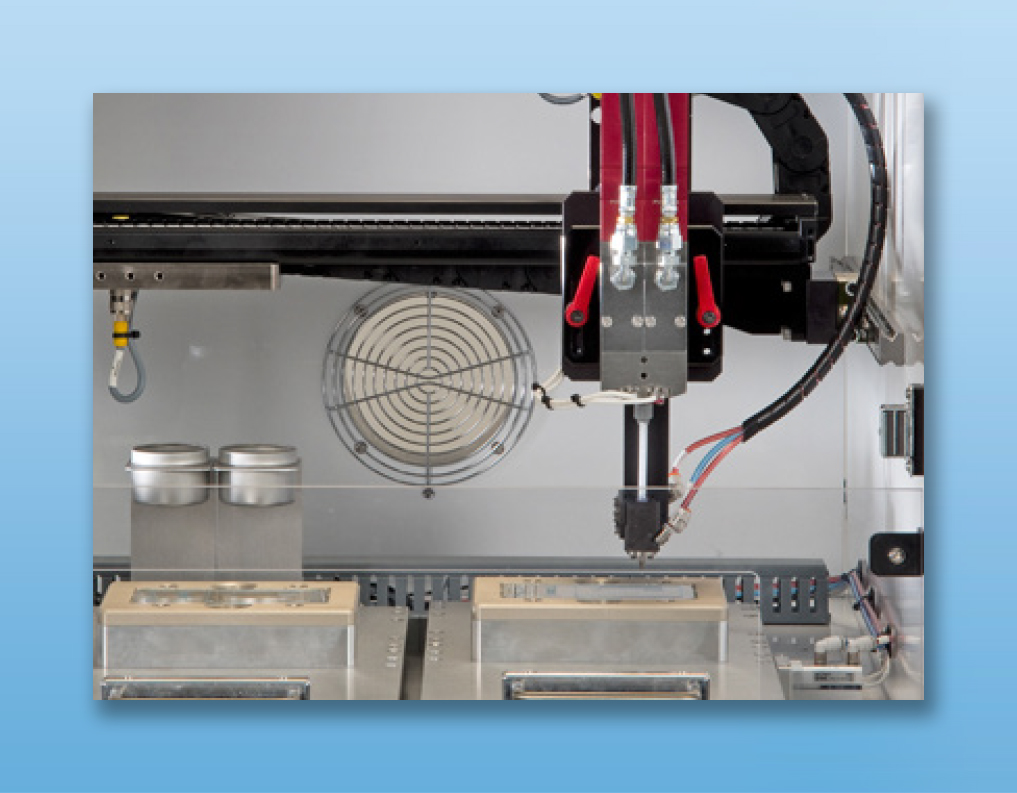 PVA350 – System Specifications
Work Area
1 Valve / Tool: 365 mm x 378 mm x 101 mm (14.375 in x 14.875 in x 4 in)
XYZ Repeatability
±25 microns (±0.001 in)
Resolution
5 microns (0.0002 in)
Motor
Brushless DC servo
Drive Mechanism
Ball Screw
Power
120 V, 220 V +/- 10%, /50-60 Hz
Air
80 PSI dry unlubricated air
Programming Software
PathMaster® software with offline image import and programming capability
Certification
CE certified
FX800 – Fume Filtration System
Fluid Dispensing / Options & Accessories
The FX800 Fume Filtration System protects employees and the environment by extracting and filtering harmful vapors from your PVA coating/dispensing system.
Benefits of PVA Fume Filtration
Filters vapors and fumes without venting to the outside
Protects employees, visitors and the environment by filtering and monitoring exhaust emissions.
System Specifications
Voltage
120V / 230V
Wattage
2.4 kW
Frequency
50Hz / 60 Hz
Airflow (with filter)
347CFM (583m3/hr)
Sound Rating (dBA)
65
Hose Diameter
4.92" (125 mm)
Filters
Main Filter: Chemical Filter for removal of harmful gases and vapors
Pre-Filter: Extends main filter life by capturing larger particles before they enter the main filter.
Cabinet
Dimensions (height includes castors)
29.13" (740mm) H
24.17" (614 mm) W
26.22" (666 mm) D
FX800 – Fume Filtration System
The budget friendly, steel unit requires a low capital investment (compared to venting to the outside) and running costs.
The system is easily installed in minutes, simply plug and play. And, by filtering the vapors, you eliminate the need for expensive ducting, contractors and drilling holes in walls or roofs.
Filtration is kept constant with "Flow Control" that automatically increases the speed of the motor as the filter blocks, ensuring fumes are captured effectively throughout the life of the filter.
The FX800 has many integrated features including:
Plug and play, easily installs in minutes
Quiet operation
Clear and informative graphic display
Adjustable airflow (speed control)
Gas and particle sensors on the exhaust
Quick change, pre-filter for longer filter life
Dual high performance, continuous run, brushless motors for efficient, quiet operation
Eliminates need for expensive ducting, contractors and the need to drill holes in walls or roofs
Minimizes downtime when relocating system, does not require moving of ducting
Mounted on castors for mobility and easy relocation
Long lasting, galvanized steel filters
Machine Interface Option (available)
__________________________________________________ _____________
Interested parties contact Jeff at
760-212-6577
or email:
.