Gravograph IS6000 Professional Industrial Computerized Robotic Engraving System, Ready to Go! (Located in Auburn, WA)
Actual Engraver: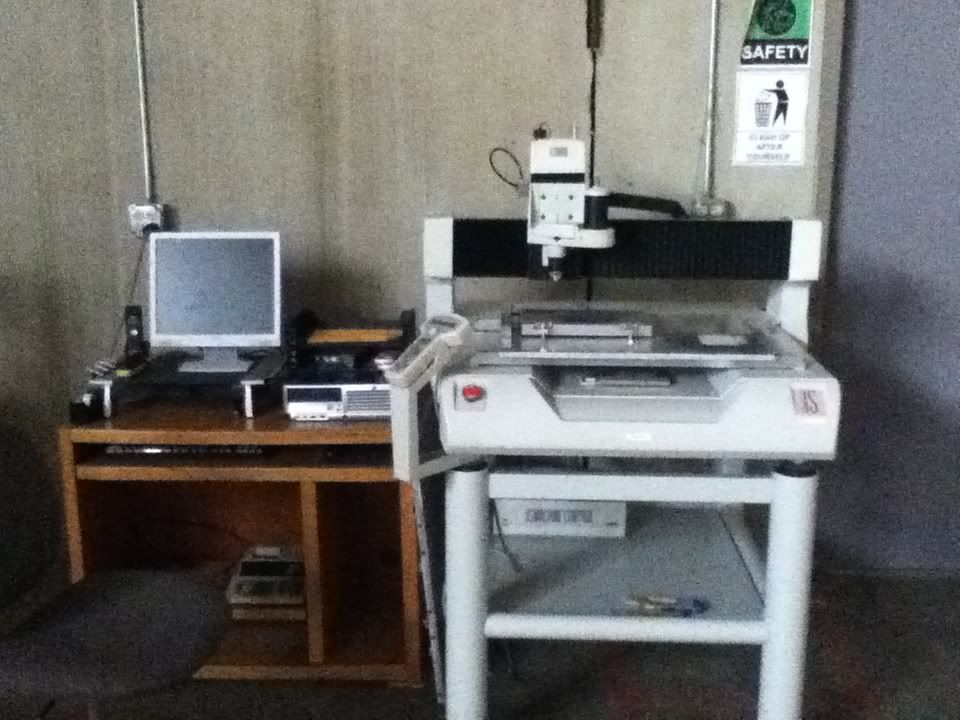 I have for sale or trade a Complete Professional Gravograph Industrial Robotic Engraving Machine, with over $5,000.00 in extra accessories, supplies and equipment.
Everything needed to expand your business, upgrade your equipment, start your own full time or part time business, or just setup as a hobby, this is a great investment, and a great money maker, part time or full time!
This is a top of the line piece of industrial machinery, and has many great applications, some of it's many applications are:
Sign Making
Entryway Office Logo Engraving
Motel/Hotel/Commercial Building/Apartment Building Etc. Door/Room Plaques
Name Tags, Commercial Signs, Plaques Etc.
Industrial Plates, Tags, Spec Plates, Serial & Model Plates, Legend Plates
Police/Security/Law Enforcement/EMS Badge Engraving
Firearm/Rifle/Gun Engraving
Serial Number Engraving
Production
Knife & Sword Engraving
Gift Engraving
Prototyping
Restoration/Reproduction
Jewelery
Engraving Plates
Two-Way Radios & Batteries
Awards, Trophies, Memorials, Plaques
Custom Products & Engraving
Custom Business Promotional & Sales Items
Rental Items (Radios, Ski's, Snowboards, Etc)
The applications are endless! Whether you want to expand your business or upgrade to the best of the best equipment, start your own full time or part time business, or just setup as a hobby, this is a great investment, and a great money maker, part time or full time!
Asking Price: $12,000 OBO
Actual Engraver:
Image
The IS6000 is the smallest in the series of the Gravograph IS Industrial Series line, which makes it the perfect size for Garage Shops, or Large Industrial shops,with a footprint of approximately 10 SqFt, Plus what the computer is on (Small Desk/Counter/Table/Etc.). The engraver sits atop the stand, and can be taken off,and the platform can be disassembled; 8 long hex nuts. Can fit in pickup or large Cargo Van. And it runs on standard 120V Outlets, so no wiring or electrician needed!
New these machines alone run new $25,000.00-$27,000.00, used, alone these run $14,000.00-$18,000.00 (For just the engraver; no software/computer/stand/blanks /accessories/tools/etc.). I am only asking $12,00.00 (OBO/Or Best Offer) for it (and it is in great working shape, and defiantly on the higher side of those ranges ($14-$18K). Plus, in addition I am including $5,000 in extras:
Gravograph Accessory Heavy Duty Engraver Stand ($799.99)
Gravograph LCD Remote Control
Extra Aluminum Accessory Custom Built/Milled Engraving Bed ($500)
Gravograph Rotary Engraving Bits + Tool ($100)
Pallet of Dual & Tri Layer Large Engraving/Sign Stock Sheets (Multicolored layers that when engraved into contrast the different colors depending on how deep you
engrave) ($1,000+)
Fast 3GHz Desktop Computer W/Software & LCD Flatscreen Monitor & Accessories ($500)
Gravograph Gravostyle Professional Engraving Software (Real, Legal Version from Gravograph) With the Security USB Dongle/Key ($2,000)
Ect. Etc. It is ready to go!
Machine & Equipment located at my shop in Auburn, WA. Can setup appointment for serious buyers. Pretty firm on price, might be interested in partial trade (up to about 35% maximum of the sale, unless you have something really cool) + cash for:
Vinyl Thermal Resin Plotter/Printer
Pad Printer
24in HP Designjet 500 Plotter
Rolls of Adhesive Quality 24in Plotter Vinyl
Embroidery Machine
Screen Printing Press; Tabletop Model 1 or 2 color, 1-2 stations
Screen Printing Press 6 Color 4+ station manual w/ micro reg.
Screen Printing Supplies & equipment
Blank Screen Printing Shirts
Enclosed Trailer
1996 or newer white cargo van (good cosmetic/mechanical shape)
Or? Make an offer! Cash talks!